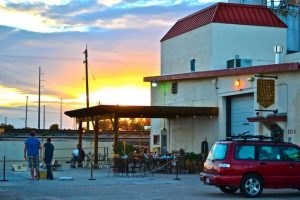 Wiley Roots Brewing Company – Greeley, CO
Located on the outskirts of Greeley, beyond the train tracks on 3rd Street and 6th Avenue, between farms and old grain silos, Wiley Roots Brewing Company has a patio that will transport you to another world. Their patio welcomes you with just the right contrast of shade and sun, and big Colorado skies. It offers seating for large groups and opens right up to the brewery, giving patrons a chance to see all the action. Wiley Roots often brings in Wing Shack's food truck, and they always have popcorn on hand to keep you thirsty for more of their unique beers. This part of Greeley is often overlooked, but take a moment to enjoy a pint among the rustic scenery, free of traffic and the day's worries; you'll soon understand why The Pint approves of this oasis for your summer sippin'.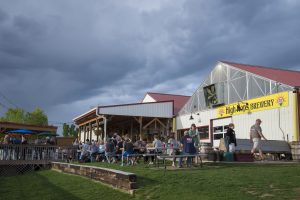 High Hops Brewery – Windsor, CO
Situated between The Windsor Gardener nursery and their own hops garden, featuring 54 different varieties of hops plants, loungers at High Hops Brewery can enjoy the greenery and big Colorado skies while sipping on one of their ales.  Is that Colorado sun just a little to hot for you?  Well, High Hops has both covered and uncovered sections, so this patio is ready for all the surprises Colorado weather has to throw at it.  While you're there, challenge your friends to a game of Corn Hole or catch some live music on the outdoor stage.  Fitting with their slogan, "All types of beer for all types of people," High Hops has really provided something for everyone with their patio. Visit www.highhopsbrewery.com for a complete calendar of summer concerts and events.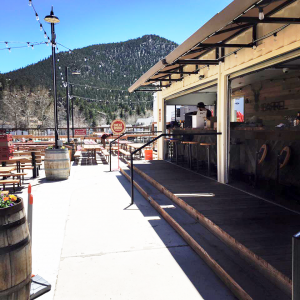 The Barrel – Estes Park, CO
Though not a brewery, The Barrel beer garden is a place for those who love beer and the outdoors. Located in Estes Park's downtown area, the bar features an impressive selection of over 60 tap beers, ciders, and meads, as well as high-end spirits and wine.
The Barrel is an awesome patio because the establishment IS one large patio beer garden. With no indoor seating, the bar area is actually a converted shipping container. One side of the container has two full-size garage doors that open to reveal a wall of taps and spirits resting inside. It is only open during the summer and does not offer up a ton of shade, so pack the sunscreen. Hit The Barrel after a hike in Rocky Mountain National Park, and watch the sun set over the mountains with a cold one in hand.
The Barrel is located at 116 E Elkhorn Avenue in Estes Park, and a new Boulder location is coming soon!