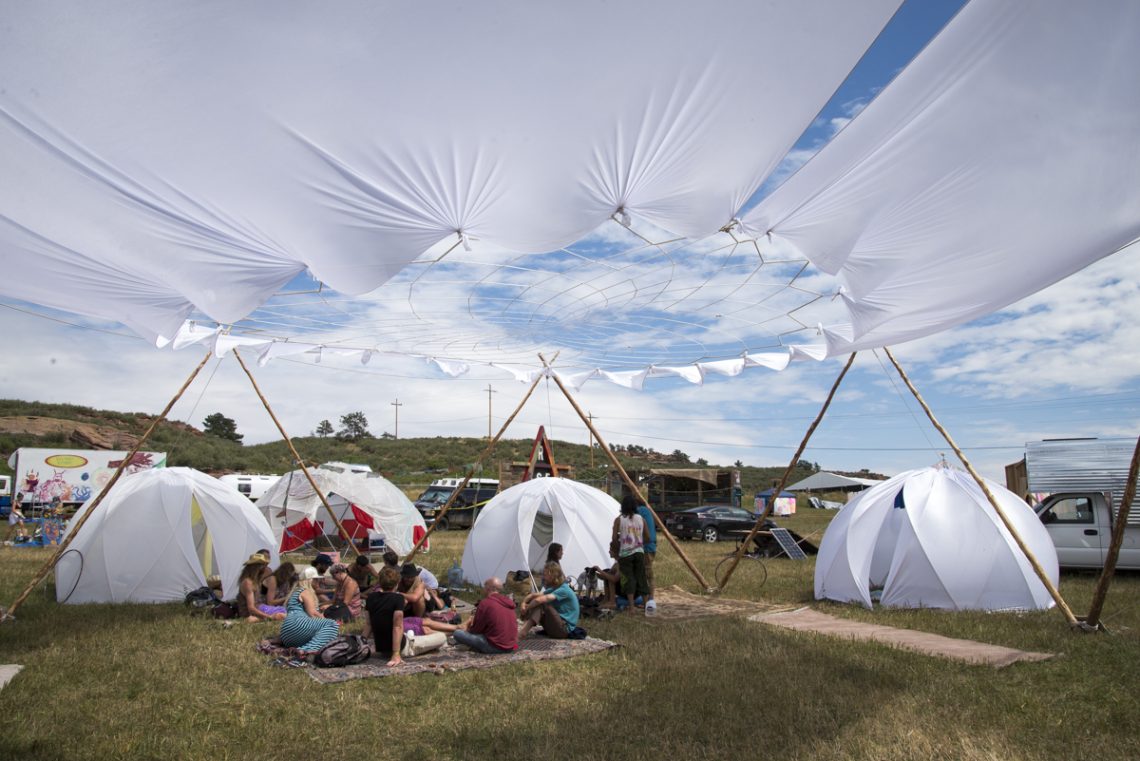 The 4th incarnation of the ARISE Music Festival has come and gone. Two days later, our over stimulated taste buds tingling with hops. This was not a beer festival per se; we brought our own. Our own human instinct of survival depended on it.
More than a music festival, ARISE brings together all from the subculture of America. Mystics from far off lands, travelers, and adventurers alike. The Pint falling into the latter of the three. We set out to this special festival seeking enlightenment, and discovery of the subculture of beer culture. If there were one, it would be here.
Located at Sunrise Ranch, early camping began Thursday, August 4, allowing those who know no limits, to begin their journey before everyone else. The Pint arrived late in the afternoon on Friday, August 5. Official event kickoff began at 6am that morning with a Fire Grace Ceremony. Headlining that evening were leaders in underground hip-hop, Jurassic 5. Formed in 1993 and thought to be extinct in 2007, the group reformed in 2013 and has been performing since. Photos here.
Every day of the festival was packed full of condoned activities or whatever else you could find. From world class yoga sessions, to spirituality discussions and impromptu drum circles. A walk in any direction would lead to something of interest.
On Friday afternoon, tucked away in a corner of the festival, a well known reggae band performed. Called Fortunate Youth, the band drew passers-by with their heavy hitting bass lines, and passionate calls. We took interest and parked ourselves at the stage, a cold Loose Leaf in hand.
Impossible to attend every act, a good way to take in the festival was to never stop moving. A complete lineup of artists can be found here.
Lest we forgot, we did arrive with a mission. We came in search of the sub-culture of beer. It occurred to us, among this special gathering of people, that the economic system of trade seemed to be at play. And what better way to engage than through economic trade. We figured that we could trade our exciting beers for other exciting beers brought by festival goers and that this would surely bring out the subculture we set out to find.
Our findings at this point have proven to be inconclusive. We were not able to find many interesting beers for trade. Full disclosure: we attempted this social experiment on Sunday afternoon and have reason to believe that beer supplies had been mostly depleted by this time.
As executed, we were offered a hackysack, or some essential oils. We were told that the effect of pure lemon oil would decalcify our pineal glands. After years of fluoride exposure in our water, it stands to reason that our pineal glands had become hardened, our third eyes blinded (another reason to drink beer made with filtered water). This seemed a fitting trade; a beer, for the freeing of our pineal glands. We were promised a new outlook for the rest of the day, an openness that would lead to great things.
In order to come to a solid conclusion, we will need to conduct these tests in the future, at ARISE and other gatherings of the sort. To recap, the festival is an experience like no other. It is well run, and with a seemingly countless array of activities and acts, the organization of it all is great. Just a few minor hiccups regarding media upon check-in, but beyond that a truly wonderful experience. We look forward to attending this event in the future with hopes of finding an answer.
Follow us Facebook and stay up to date with all sorts of happenings around Colorado, plus see our complete photo galleries from this year's ARISE festival. Cheers!
Photo Credit: Cody DeVries and Cole Peterson