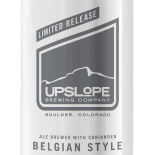 Upslope's first ever GABF winner (2009 bronze), is a goodie.
It presents a beautiful golden color and clear appearance. The Trappist yeast hits you smack on the nose. Not too hoppy, but has a pleasing flavorful tartness, which will quench your thirst. Offers a smooth and balanced mouthfeel. Slight toasty flavor, but definitely more fruit forward. A dry finish, with a spicy coriander edge that remains long afterwards. A high 7.5% ABV, above the standard for this style, so be careful before knocking back too many.
Try with grilled lemon chicken and asparagus. Cheers!