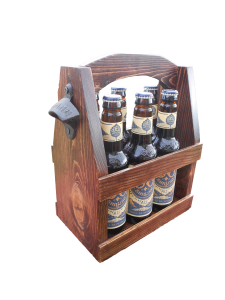 Handmade Wooden Six-Pack Holder by Holly Collingwood
Local Loveland woodworker Jerran Peery makes a serious six pack holder. For only $35.00 it is made of pine with several handle and finishing options, has a bottle opener attached, and makes a great host or hostess gift for all the holiday parties. Just fill it with a favorite six pack, and it is guaranteed to make any beer lover happy. In the summer it will work well as a condiment carrier for backyard BBQ's. You can find Perry's six pack holders at the retail store "Projects" located at 3228 E. Eisenhower Blvd in Loveland.
Fort Collins Brewery Beer Soap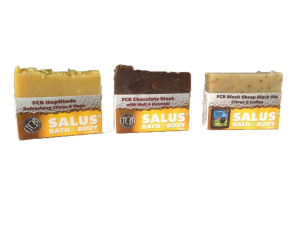 by Charles Winters
Who says that a beer-themed gift has to come in a bottle or can? Salus Bath and Body partnered with Fort Collins Brewery to create a line of soaps—scented to match FCB's popular beer varieties. Bring your favorite FCB beer to your bathtub or shower with scents like Chocolate Stout, made with natural malt and oatmeal, or Black Sheep IPA, which includes citrus fruit and coffee. Also available is Hoptitude, with a refreshing infusion of citrus and hops. These soaps boast premium ingredients and smell fantastic, while still nodding to their boozy inspirations. At $7, this soap isn't going to break the bank and could make a solid stocking stuffer for the beer enthusiast in your life. Pick up a bar at Fort Collins Brewery's website (FCB Soap) or directly at their store on Lincoln Ave. You might as well pick up a pint while you're there.
Handle This Cup by Trixi Cunningham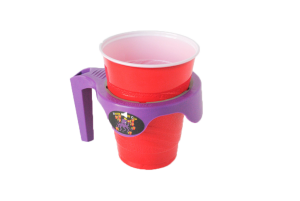 Handle this Cup is an ingenious invention born in Greeley. It is a product that provides a solution for carrying multiple beverages at once, while separating your warm hand from your cold beverage. Simply slip the handle over your handle-less cup and voila, you have a handle for your cup. Handle This Cup works on most cups, making it perfect for every event. Ron Redfern and Brian Franzen are the brains behind Handle This Cup and made the handles stack-able so you can carry multiple drinks with an ergonomic design. Handle the whole family this year with 2 handles for $10 Handle This Cup
CBC Flight Kit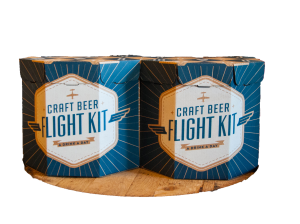 by Kendra Hamman
If you are still at a loss as to what to buy your craft beer-crazed loved one this holiday, keep it simple, and head to the The Craft Beer Cellar in Fort Collins. They have made it easy for you with their pre-made 12 pack. The "Flight Kit" as it is called features 12 quality bottled brews hand-selected by owners Chris Lazzery and Justin Wright. It comes nicely packaged in an easy-to-wrap box. The best part is, you don't have to know a lick about beer, just–walk-in, pick one up and you will be on your way. CBC – Fort Collins
The Pint 'winter edition' Tee by The Beer Sherpas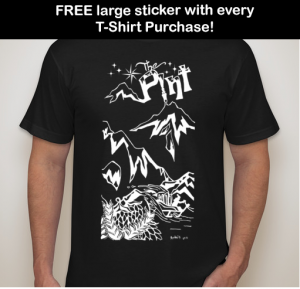 The Pint Magazine has officially debuted a fashion line with their 'winter edition' tee.  The black shirt is made of soft, breathable, 100% pre-shrunk cotton, and features original artwork from stroke14′. The classic winter scene encapsulates what it means to live a winter in Colorado. A silhouetted figure hauls an ice cold mug of beer on his horse-drawn sleigh through a frigid mountain pass, hoping to soon bring joy to his family and friends. We know that when he gets there all will be well, because there is nothing like sharing local brew with loved ones around a cozy cabin stove, somewhere deep in the mountains.
Shirts can be purchased at The Pint Magazine Store along with stickers, for the ones that just don't get it.