The late summer heat is upon us and with little-to-no relief, The Pint decided it was time to take a mountain town brew tour through Steamboat Springs.
Steamboat is now home to four breweries: Butcherknife Brewing, Storm Peak Brewing, Mountain Tap Brewing, and Mahogany Ridge Brewery and Grill. Unfortunately, due to time constraints we were not able to stop at Mahogany Ridge Brewery and Grill. Next time.
Steamboat for us, was approximately a four hour drive. Quite a distance and, yes, there are literally a hundred breweries between here and there. Though, that was not the point.
The outside temperature was nearing 100 degrees on the plains, and we don't have air conditioning. Just warm beer and sweaty pits. Steamboat, according to the weather app, was a joyous 15 degrees cooler. Our minds had been made up.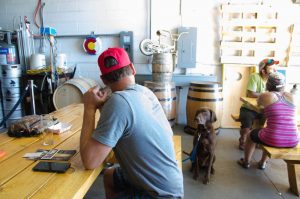 Upon arrival to Steamboat our crew decided: hunger. We took a pit stop at Double Z BBQ, the areas premiere BBQ joint.
After lunch we made our way to Storm Peak Brewing, which was the first brewery to open it's doors at noon, on that particular Sunday. The taproom was open and bustling and featured a large overhead door that allowed for lots of mountain air. The team was pleased with their beer selection. We tried the Maestro IPA, Tropical Lawnmower dry-hopped cream ale, and Therapist Irish Red IPA. As it goes in mountain towns, we made friends with our table neighbor and his well-behaved 4-legged friend.
After spending more time than allotted for our first stop, we decided it was time to move on to our next brewery.
Butcherknife Brewing was just another mile NW from Storm Peak Brewing, and upon entering the tap room we were greeted by a thoughtful employee named Chuck. Chuck was helpful and courteous, and agreed that the best way to go about our day's business was to try all of the beer. He poured us a flight of the 5 beers on tap that day. We of course enjoyed our brews and Chuck's hospitality.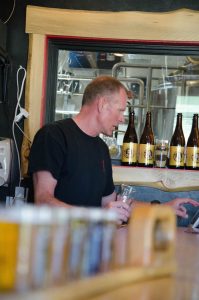 In fact as we were leaving, he sold us on a specialty bomber of barleywine that had an interesting story behind it. The label featured a photo of a man dressed as everyone's favorite A-team member, and funny enough, that man was a customer among us that day (though he was not dressed as Mr. T). His name is Briones, and he was the inspiration behind the beer. Click the link for the full story behind The Legend of Briones and the Butcherknife.
Mountain Tap Brewery was our final stop and apparently had only been open for four days prior to our visit.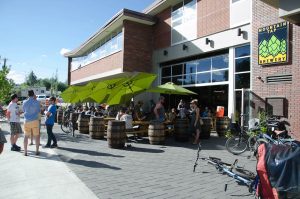 They are located directly adjacent to the Yampa River, on Yampa St. in downtown Steamboat. The brewery features a full blown wood-fired oven that is used for cooked items on their menu like pizza, appetizers, and entrees. The atmosphere was open and bustling, and they were packed! There was great indoor seating that opened up to the patio through large overhead doors. Owners Rich and Wendy Tucciarone were present and excited to be open. This is their first brewery, but Rich has been in the brewing industry since the '90s and has worked as a brewery consultant until now. Wendy told The Pint, "We have just been waiting for the right time and location," which they apparently have found. Mountain Tap seemed to be the final stop for just about every person exiting the river after a nice float on a warm day. Congratulations Mountain Tap!
In all, the weather could not have been better nor the beer more appealing. Thank you for having us Steamboat. We will see you soon!