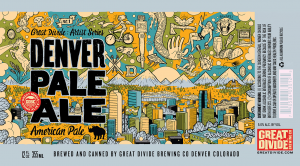 For their 22nd anniversary, Great Divide Brewing Company is celebrating with a revamped Denver Pale Ale recipe, an introduction of their "Artist Can Series," and the opening of the brewery's new canning facility and barrel aging program in the River North District.
We caught up with Great Divides Marketing Manager, Shannon Berner and featured local artist, Josh Holland to find out more.
The Pint Magazine: After 22 years, why did Great Divide chose to change Denver Pale Ale's recipe? What is going to be different about it?
Shannon Berner: When Great Divide started in 1994, the beer scene in Denver was nothing like what it is today. "Local craft beer" wasn't a thing, and restaurants were proud of their "import" beer lists, if they even had one. The original Denver Pale Ale was first brewed sold in 1997, and it's remained one of our flagships ever since. But fast-forward almost 20 years, and the city has changed pretty dramatically, and so has the craft beer community.
Here we were, holding on to an incredible name like "Denver Pale Ale" and we didn't feel like we were doing it justice with an English-Style beer. Colorado beer drinkers have become notorious for being hop-heads, so we decided to turn the new Denver Pale Ale into a perfect, every-occasion-for-the-Colorado-lifestyle American Pale Ale. The new Denver Pale Ale is bright, crisp, refreshing, and full of Centennial and Simcoe hops from start to finish without being overly bitter.
TPM: Why is including local artists in the "Artist Can Series" releases important for Great Divide?
SB: We wanted to do more with Denver Pale Ale than just revamp the recipe, we want it to really showcase this amazing city that we call home. We weren't able to start canning until we opened our new facility in the River North (RiNo) Arts District last year, so it just seemed like the perfect tie-in for releasing Denver Pale Ale in cans to highlight local artists and let them express what the city means to them.
TPM: What can guests expect from the "Yeti Experience" ?
SB: They'll just have to come and see for themselves. 😉
TPM:Can you give our readers some insight about the new barrel bar in the RiNo district: Why is barrel aging beer important to Great Divide and how it has, and will continue to impact Great Divide?
SB: Before we opened our new space, we were limited in what we could do with barrel aged and sour beers because we had to keep everything stored in an off-site warehouse. We now have a barrel aging room and a room dedicated to sour beer. The changes you can make with the same few ingredients to a beer are incredible, and being able to fully explore the possibilities with barrel aging and souring beers is important for us to continue to offer a robust portfolio of bold, flavorful beers.
Josh Holland has been selected by Great Divide to provide the can artwork for their newly revamped Denver Pale Ale.
The Pint Magazine: How did you get chosen to work with Great Divide?
JH: It's hard for me to say, my whole career (post-art school) has been in Boulder and Denver. I've been working as a commercial illustrator and designer locally, as well as showing in galleries and poster shows whenever I can. I've made a lot of pieces that celebrate Denver in the past, I love craft beer, and I live right down the street from both Great Divide taprooms. I guess it was a combination of these things, hard work, and some luck!
TPM:How long have you lived in Denver, and what inspires you most, art wise, about our Mile High City?
JH: I'm constantly inspired by the local art community. I feel like whenever I leave the house I bump into some amazing poster artist, tattoo artist, designer, or maker of some kind. We have a wealth of talent in this city, and everyone is pretty genuinely nice and hoping to see each other succeed. It's a beautiful thing.
TPM: Overall thoughts on the art community and craft beer community. Is there a great amount of over-lap? Could there be more?
JH: I think craft beer culture is one of my very favorite things about living in Colorado. There are so many options, it can be overwhelming to people who are new to it, and increasingly harder for breweries to stand out on the shelf. But I think the locavore spirit of the craft brew industry breeds a natural partnership with their local image makers and designers. I think we can play a big part in helping breweries elevate their product, and create a truly unique experiences for consumers. I know that's what I'm constantly chasing as a craft brew nerd.
TPM: How was your experience working with Great Divide?
JH: Working with Great Divide has been great, they've been really receptive to my ideas and careful to make sure that my depiction of Denver is my own. That was really important to everyone involved. Overall I'm happy to have been chosen to kick off an art program by one of my favorite breweries, and I'm even more excited to see how other local artists will approach this project in the future.
The celebration will be held at the Great Divide Barrel Bar on June 11th 2-6pm at 1812 35th st.