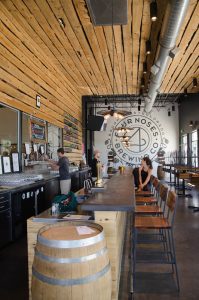 4 Noses Brewing Company
Tommy Biblowicz was born with only one nose, but with the help of three more he's turned his family's passion for home brewing into something much more potent. Having just celebrated their 2-year-anniversary, 4 Noses Brewery in Broomfield, Colorado is an example of what can happen when 4 individuals of different talents merge to bear one fruit. The '4 Noses' refers to owners Tommy, his mom and dad, and his brother David – each of whom possess strong skill sets in different areas. While Tommy and his mom are more business savvy (Tommy graduated from DU with a major in finance), David and his dad share a gene for design and architecture. Combine all that with a passion for brewing and now you're cookin'.
"How it really started was when some close family friends of ours bought my dad a little 5 gallon malt extract brewhouse for his 50th birthday," says Tommy. "At that time my Dad was living in New York and I was still going to school in Colorado, but by the time I moved back home his little home brew set up had become an entire garage worth of equipment." Together the father son duo began brewing on the weekends, making about 20-30 gallons a month just for their own consumption, quickly growing more and more passionate about their new hobby. "As my dad puts it, 'the bug bit us.' "
Taking home brewing to a professional level involved a lot of research, but eventually the family came together to mold their product and their brand. First lets talk beer. "You kinda get a feeling for what everything does in beer and what all the flavor profiles do," Tommy says of the company's more experimental brews like the El Jefe Cinnamon Stout and the Tommy Appleseed. "But sometimes I like to stick to a standard, more traditional beer. We just brewed our first pilsner and I was really happy with the way it came out. That beer has a time and a place. It's a pilser.  You can be as creative and experimental as possible, but at the end of the day you have to show that you know what you're doing."
One of their core products include 'Bout Damn Time IPA which was released at the end of April and has quickly become their #1 selling beer on tap and out of cans. The company likes to keep it playful when naming their beers. "'Bout Damn Time" was the brain child of bar manager Charles while "Hoot's Pie", their boysenberry blonde was the result of an auto correct on a text message. "We were like what the hell's a hoot's pie!?" says Tommy. The creative names accompany the intelligent artwork printed on their labels, which were all drawn by the 4th nose, Tommy's brother David, while the stunning interiors of the Broomfield tap room itself were designed by his architect dad.
Behind all the shiny taps and summer blondes, however, Tommy and his family have also come face-to-face with the many challenges of being an independent brewer. "I think we're all gonna see some challenges with the grocery store bill pass," says Tommy referring to a bill recently signed in Colorado that will now allow big grocery store chains to sell full-strength beer and wine, likely putting many mom and pop liquor stores out of business and allowing big name beer companies a greater hold over the entire market. "That was unfortunate."
Another big hurdle on the horizon for independent brewers, is the likely merger of SAB Miller and Anheuser-Busch. Already the largest beer company in the world, AB Inbev will control roughly one third of the global beer market if the merger goes through. "These companies have a billion dollar advertising budget that they can use to confuse people and they've done a very good job of that," says Tommy. "Our big push is really to try to get consumers to understand what the landscape is and that there are gonna be some beers out there that may look like craft.. but they're not. They're produced in Anheuser-Busch facility at a 900 barrels-a-day scale and that is and never will be craft."
Looking for a proactive and organized approach to this problem, Tommy has spent a lot of time talking to other independent brewers about the possibility of forming a new guild that's really craft specific. "Basically, how do we train our consumer to know the difference between craft and not craft when we're fighting a billion dollar budget that blurs the lines? It's a strategy that's in the developmental stages." The other side of all this, Tommy says, is the continuing support of local businesses and building relationships within the community. "The Colorado liquor store industry has been really, really good to us and there's a lot of really good people out there who own businesses that care about what they do and also really care about what they put on their shelves." Additionally, 4 Noses has been spotted at many local events from the Lake Dillion Music Festival to Jazz in The Park as well as they incorporate local ingredients into their brews such as the honey found in Honey Nut Beerios and the cocoa nibs that sweeten up their Ritual Rivers Cocoa Coffee Porter.
Currently 4 Noses brews can be found in about 100 liquor stores from Fort Collins to The Springs and they're churning out all the staples for the 4th of July holiday. Depending on what you're cookin', Tommy and his team have been working hard to stock the shelves with a variety of take home celebrations from the Hiker's Helles (an easy to drink german style lager) to the .44 Magnum Double IPA (8.1%). However, if it's the wildly popular 'Bout Damn Time you're craving, you might wanna grab some before the big weekend. It might just sell out and the next batch won't be available until July 5th. "Of course anything else we have here on tap," says Tommy, "you can always come in and we'll throw it in the growler for you."