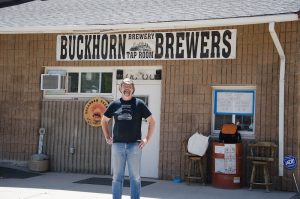 Buckhorn Brewers
Buck Your Style. That is, according to Dave Currie, owner and brewer at Buckhorn Brewers LLC, "Our ethos."
Currie has been a home-brewer since 1985 and wants the world to understand that beer is what you make it. Inspired by ancient brewing techniques and ingredients, Currie has a real hold on what he likes to brew and why. He states, "I don't have a citrusy IPA on tap, which makes me like, the only person in Colorado that doesn't." Instead when someone wants a bitter IPA, Currie hands them his gruit, which ironically doesn't contain hops. He says, "You want your bitter? Here try this!"
His gruit is brewed with spices and ingredients like wormwood and licorice root. The carbonated concoction comes across as deeply complex and alluring.
Gruit was the people's drink of choice in medieval times, and it wasn't until Henry VIII decreed all beer be brewed with hops, and around the same time as Germany's infamous beer purity laws that beer was commonly brewed with the bittering plant.
But Currie is more than a brewer, and he wants more than to just serve beer. He is a conversationalist of the third kind, he is a bright, entertaining, and genuine being, full of life and high on beer.
His taproom serves as a center of community development, a place where folks from all walks of life can go and feel a sense of place, all in part because of Currie, himself, and the customers his place of business attracts–Anti-pretentious and anti-establishment. The aura is, screw your system, I'm brewing what I want to brew, and I'm going to create a paradise for the good people of Northern Colorado .
Currie said, "I wanted to start something that will start a community and bring all of our neighbors out of hiding. We will be able to hang with everybody, and it works. A beer and a good conversation, that's what this place is about."
When asked what it was like to operate an independent brewery, Currie answered, "Tell you what, the freedom you have by doing this. Just being able to express yourself with a recipe…you get to see people's faces when they try something new and different, they light up! That's the best!"
He also commented on being a brewer in the USA stating, "In the US, our brewing scene is the greatest in the world because of the innovation of all these little brewers, like us."
Go say hey to Dave at Buckhorn Brewers. He is located at 4229 W Eisenhower Blvd in Loveland, on the west side of town, on the way to Estes Park.