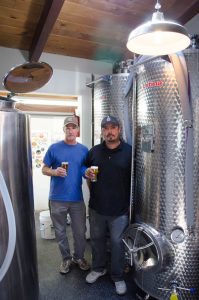 The Industrial Revolution
Founded in 2013, The Industrial Revolution Brewing Company was the first brewery in Erie. Their name is a tribute to the early days of the town, and a nod to hard working people everywhere.
Co-Owners Tim and Nate Cervantes have always been hard-workers and both came from the construction industry. In fact, at the time of our interview, Nate Cervantes was hard at work installing an expanded patio area for the brewery, by himself. Though, he was able to take a break and tell us about their family operation, stating "It is advantageous to be small. We don't have a lot of people inside our pockets. We don't have any investors, we don't have loans. That is the advantage of being small. I am not paying anyone to build our patio."
And they truly are a family operation. According to Tim Cervantes, "The whole family is involved, my daughter, Nate's sister, bar-tends 3 days a week, my wife does the books." Both Tim and Nate brew.
Tim Cervantes told us, "I was a home brewer for many years and Nate has always had an interest in beer. When Nate was a little kid, he would help cap the bottles." It seemed a brewery was inevitable, but the rail wheels didn't start to turn until 4 or 5 years ago, once Nate had returned from his trip to Germany. After experiencing their beer culture, according to Tim, Nate felt inspired to open a business.
Their taproom features 6 handles that rotate through 30 different beer recipes. The Pint had the pleasure to try their flagship Blonde Stout as well as their newly released Kottbusser. The Blonde Stout was Tim's creation, which is, amazingly, what it sounds like, a light colored, full flavored beer. IRBC's Kottbusser is a new twist on an ancient German honey-wheat beer. Tim added lemon and the end product can only be described as anyone's perfect summer beer.
Tim stated, in reference to Erie, "We are in the perfect place, the community around us is very supportive. There are people moving into Erie like crazy, and as they discover us, they enjoy us. The atmosphere here is really conducive to relaxation."
Make the trek to see the IRBC, you will not be disappointed. They are sure to provide a great atmosphere with a great product and kind eyes. The IRBC is truly a class act of hospitality and a shining example of what a neighborhood brewery should be.