The idea of beer paired dinners are nothing new, but sometimes they may seem a little hard to come by, or just a little out of reach. Well, The Mainline Alehouse in Old Town Ft. Collins has you covered.
The Mainline has been in business for 3 years and was started with the idea of being a beer focused eatery, serving American inspired eats with a twist. Main menu offerings include everything from a burger piled high with bacon and onion strings, to chicken and waffles, and even a lobster club sandwich. All standard menu items are recommended along with a beer that the chef thinks will enhance the overall meal experience.
In an effort to expand the concept of beer paired with inspired eats, The Mainline frequently teams up with various local craft brewers to create a special multi-course meal. Recently, Head Chef, Justin Burdick and The Mainline team, partnered up with Odell Brewing Company to bring together a 4-course meal to highlight the best of the Ft. Collins culinary scene with the best of their beer scene.
The meal was broken down like this:
Amuse
Beer Braised Pork Belly Sushi- Classic Odell IPA
Tree shaker peach IPA braised pork belly, cucumber, toasted sesame seed, Sriracha aioli, wasabi.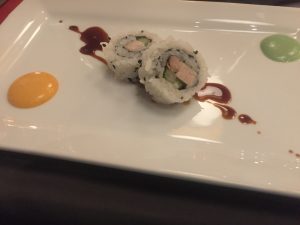 First course
Apricot and Smoked Duck Salad –Drum roll, APA
candied pistachio, seasoned frisee, smoked duck breast and sunflower sprouts with a honey citrus vinaigrette
Entrée
– CO. Lamb – 90 shilling, Ale
Espresso encrusted lamb lollipops, white cheddar potato gratin, watercress.
90-shilling demi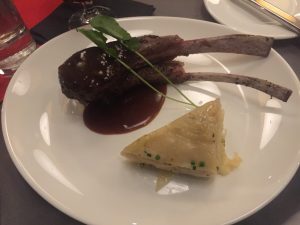 Dessert
– White chocolate Blackberry tiramisu –Friek , Sour
Blackberry espresso soaked ladyfinger, in-house white chocolate mascarpone, Blackberry coulis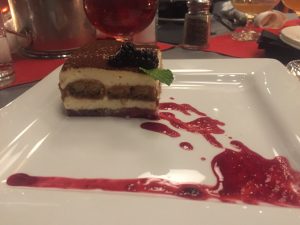 The Pint was lucky enough to attend the dinner and as far as we can tell, The Mainline is on the right track. For $45, the meal comes in at a great value. The hosts were sure to pour full our glasses of beer, and the perfectly sized portions of food left us not needing anything else, while not leaving us over-stuffed.
During the introduction of each course, Chef Burdick would give a rundown on his inspiration, and method for the plate. Most interesting was his preparation for the smoked duck, which involved a special method of cooking, in which the meat was cooked under pressure. The pressure allowed for each side of the duck breast to be cooked at exactly the same rate, all the way around, leaving us with an evenly cooked breast. He then gave the breast a quick sear, crisping the fat and skin. Every course of the dinner was delicious.
All around a great experience at a great value. More of these beer meals are planned, so be sure to stay up to date with The Mainline Alehouse online at mainlinefoco.com or on facebook.com/alehouseoldtown. Cheers!