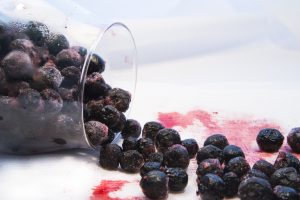 What's small, purple and chock-full of healthy stuff? America's berry, also known as the Aronia berry.
With North American origins, it has a fascinating history. This superfood was once used by Native Americans for its extensive health properties, everything from an anti-inflammatory to anti-oxidant. Europe 'borrowed' it and has been using it in wine for centuries. Nowadays, it has resurged into vibrant growing communities in Nebraska, Iowa and here in Colorado. The berry is back, baby!
Grimm Brothers Brewhouse recently partnered with a local Aronia berry producer to create the "healthiest beer ever brewed," says Tim Fritz, CEO of Battle Berries, located in Loveland. "The Aronia berry is amazing…. it has 400% more antioxidants than blueberries," he says. It can't help but be healthy. Super Beer is born!
Don Chapman, Grimm Brothers' Head Brewer says collaboration with local partners is important. Benefits include, "having fun, promoting each other and bringing back the old home brew days," he says. Experimentation is key to new beer discoveries, and Fritz agrees the brewing process has been terrific.
How was it made? Ten gallons of macerated Aronia berries were added directly into the fermentation process. Afterwards, a post-injection of Aronia extract was added to enhance the purple color.
When two passions collide, beer and berries, the end product is guaranteed to taste amazing. At a preliminary tasting, the brewers described it as a wheat-based beer with a light berry flavor. With an ABV at 5%, it's perfect for easy-drinking summertime. The finish is refreshing, crisp and dry. Not surprisingly, the color leans toward red-purple. How purple? Only time will tell. As of mid-June, it was still in final fermentation.
This super beer debuts at the Loveland Liberty 5k Run on July 4th. Afterwards, Battle Berry Wheat will be available at Grimm's tap room with a few gallons offered at local taps. Production was limited to a 10-barrel batch (20 kegs), so try it now because once it's gone, it's gone.
For more info on Aronia berries, check out: www.BattleBerries.com and www.grimmbrosbrewhouse.com