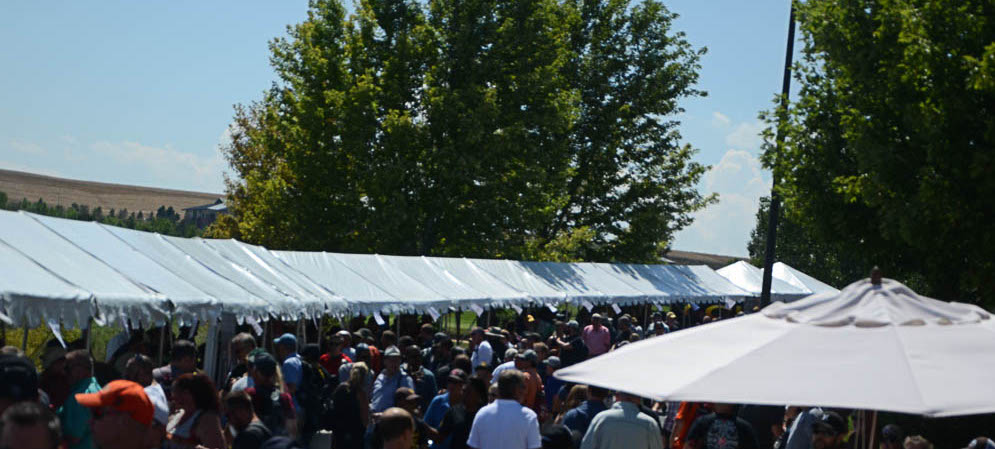 On Saturday August 20, the 7th Annual Rocky Mountain Cigar Festival took place at Omni Interlocken Resort in Broomfield. It seemed a proper setting for such a festival; an upscale resort complete with 3, 9-hole regulation golf courses. The festival grounds were held outside the hotel, overlooking the sweeping hills of the well-manicured golf courses. And truly, the day's weather could not have been more perfect. The sun was shining with the first tinges of a coming fall.
The festival offered 3 tiers of smoker friendly ticketing options, as well as 2 tiers of non-smoker, "Social" level tickets. Each tier granted a different level of perks. For general admission attendees, a set of over 20 premium cigars were included in the ticket price along with a cutter, butane lighter, and drink/meal tickets. From there, an increasing set of higher quality cigars came with the upper level tickets. For us, the general admission ticket level seemed more than generous.
The festival layout boasted an impressive line-up of cigar manufacturers from around the world as well as local craft breweries, wineries and distilleries. In addition, there was live music and billiards.
Attendance to the festival seemed to cross a wide range of cigar enthusiasts, aficionados, and newbies (us); all brought together under the umbrella of enjoying the day and taking it easy. As one would expect, the festival was mellow and simple to take in.
For us, the prospect of attending a cigar festival elicited a sense of intrigue among our staff. It  was something new that we could open up to, and offered the opportunity for us to expand the concept of craft beer and cigar pairing.
A few of our favorite Colorado breweries were in attendance, and included our friends at Crabtree Brewing, Grand Lake Brewing, Odyssey Brewing, and Vindication Brewing. Each of these brewers brought the beer that they thought would pair best with cigars. We found, to our surprise, that Grand Lake's peach wheat paired extremely well with our cigars. It seemed to defy reason that a light bodied fruit beer could enhance the cigar experience, and vice-versa. On the other side of the spectrum, Vindication's coffee stout was robust enough to compete with heavy cigar smoke.
Our favorite smoke of the day? Ventura Cigars' Psyko Seven, which featured a label that resembled a prescription label. When asked, representatives for this brand stated the prescription was for, "Whatever you want it to be."
The Rocky Mountain Cigar Festival could prove to be a great experience for anybody, and not necessarily just cigar smokers. There was plenty for all; from the craft beer and spirits, to the live music, and other non-tobacco vendors. A good mix of attendees with the pleasant backdrop of the golf courses made for an overall fantastic little event. Cheers!