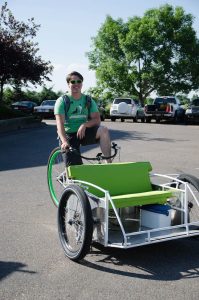 Fort Collins is a bike-riding town fueled by beer, there is no doubt. And with a few of the country's most popular breweries all within a stone's throw of each other, the idea of a guided brewery bike tour could not be far behind.
That is the theory behind Tadpole Pedicabs. As a Fort Collins local, owner Andrew Victora  could see the need for guided pedicab tours. The concept was born in an entrepreneurial class that Victora took while at CSU. In Victora's words, "Fort Collins likes bikes, and they love beer. So why not put as much beer and bikes together as we could?"
Victora knew that he wanted to approach the pedicab challenge a little differently. Inspired by the label on New Belgium's "Slow Ride IPA," (imagine a couch mounted to a three-wheeled bicycle) Victora sought local design and manufacturing studio, Yendra Built, to create a different sort of cab.
The functioning prototype has three wheels, disc brakes, shock absorbers and a seat cushion designed by a Disney seamstress (yes, really). Unlike standard pedicabs, the tadpole puts the rider in the front seat, while the driver pedals from behind. In a sense, the contraption resembles a tadpole, and it's green.
Comfort for the rider was first and foremost in Victora's mind, he said. "As you go over bumps, it should feel like you are barely adjusting in your seat."
Tadpole Pedicabs is a by-the-hour service, and the recommended tour is about three hours long. Our tour had three planned stops: Snowbank Brewing Company, Mobb Mountain Distillers, and Equinox Brewing Company.
The experience was exciting, to be seated out in front, with nothing but the wind in your hair. Unobstructed views while cruising down the road created a sense of openness that pedestrians and motorists took as an open invitation to wave at and comment on. In fact, upon arrival at Mobb Mountain Distillers, Victora and The Pint made instant friends with the patio dwellers, whom were enjoying their local whiskey in the warm sun. All simply because we rolled up on a Tadpole Pedicab.
To schedule a tour call (970) 300-3332. Tadpole Pedicabs offers beer/sightseeing tours, special event/wedding transportation, as well as night taxi/bar hopping services. In addition, all of Victora's drivers are "Fort Collins Sightseeing Certified," so you are sure to be entertained during your ride. Visit their website www.tadpolepedicabs.com for more.