Just as drinking a great beer is better together, so is brewing a great beer. Craft breweries look at others in the industry as fellow beer crazed friends, especially during the months leading up to the 3rd annual Collaboration Fest. Two Parts media firm puts on the fest that brings together 2 or more "brewing personalities" to create a one-of-a-kind beer. Alex Wiessner, media coordinator for Collab. Fest says "It is so cool to hear the stories behind the beer. From former employees getting together with their former employers…all 85 recipes have a detailed story on how they came to be." The Pint caught up with 6 of the breweries at their collaboration brew days.
Collaboration Fest will be held at club level of the Mile High Stadium in Denver from 3:00pm-6:30pm March 19th, 2016.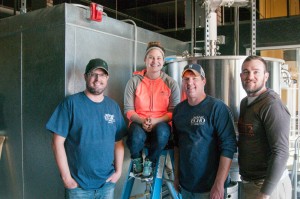 Echo Brewing Company and Two22 Brewing Company: Brewing Collab day
Echo Brewing has been open for four years and has two locations, one in Frederick and one in Erie, CO. Echo is truly a family affair, with twin brothers Dennis and Daniel running the breweries with their sisters.  Echo and Two22 Brewing Company have been close friends for about two years. Their relationship began with Dennis and Daniel Richards acting as mentors to the young brewery.
Two22 have established themselves as a prominent neighborhood bar in Aurora and self-distributes beyond the tap room. Two22 is the brainchild of Paige Schuster and her husband Marcus Christianson who both boast a science degree from DU and originally planned to be teachers. "When we were teachers, we knew that wasn't a right fit [but] brewing is a way for us to keep a foot in the science world." Schuster tells The Pint
Their collaboration brew with Echo sounds a little like a =game of telephone: Caramel Apple Blond Stout. When asked how they came up with that concoction, Dennis explained,  "We have been brainstorming, and narrowed down our ideas to a few. Caramel malts, cold brew coffee, fresh apples, and light grains for the blond color."  With a melding of breweries, comes a melding of beer styles.
"The fun thing about collaborations is you get to see what works for other people," says Schuster, who recently resigned from being the head brewer after she had her first child. Matt Weaver is now the brewmeister, while Schuster focuses on her overall vision for Two22, which includes donating $2.22 of every $10.00 to a variety of charities organized around education, environment, and whole-person wellbeing. Be sure to try their beer at Collaboration Fest at Mile High, Stadium March 19th, 2016.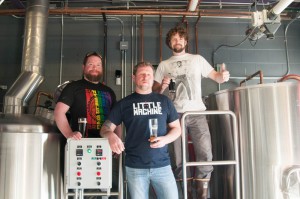 Little Machine and Sun King Brewing: Collab Brew days
The collaboration between Sun King Brewing and Little Machine seems to represent all that is the humble beginnings of co-workers turned entreBEERnuers. Owner and head brewer of Little Machine, Brett Williams and production manager for Sun King Brewery, Dustin Boyer worked together at Rock Bottom Colorado eight years ago on the brewing and production side of things. The experience was enough to spark careers in brewing for both of them. Sun King, located in downtown Indianapolis, IN, has been open for seven years and pumped out 42,000 barrels last year, while Little Machine is just that, a small system ran by an industry vet that has been open four months and has produced some stellar brews like Black Currant Sour and Colorado Stock Pale.
Williams told The Pint that opening Little Machine "Brings me back to my roots." He can brew the small-batch creative beers that he loves and not worry about going through the motion of mass produced beer. Boyer agreed,saying that this collaboration "has brought us back to the brew pub environment…production becomes like a factory." And that's exactly why Williams named his brewery "Little Machine." "Every machine breaks down to four simple mechanisms… let's not be so complicated about things."
Lead Brewer for Sun King, Adrian Ball, also enjoys brewing the specialty one-offs. In fact, Sun King only has three staple beers, and a long list of "Kings Reserve," specialties, and seasonal beers.
Sun King and Little Machine are brewing a Scotch Ale with muscovado sugar and toasted oak chips. Both breweries worked together to create the recipe. This beer might seem simple, but the care, experience, and brewing philosophies behind it can guarantee an exciting Scotch ale for you to try at Collaboration Fest this year.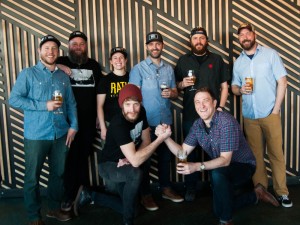 Ratio Brewing and New Belgium
Zach Lowery, one of the owners of Ratio Beerworks, located in Denver's up and coming RiNo district, told The Pint, "The name Ratio was drawn from the ratio of coffee to water to make the perfect cup. . .We thought, 'Hey, that's exactly what we do in the brewing process.'" They keep coffee on tap, mind you. Now, "The name has really taken on a meaning of our ratio between beer and our community…" and the ratio between the founders roots in music to their future in beer. Lowery ran a music label before this newest, beerier, endeavour and met most of his cohort through the Denver music scene. In fact, the music industry is the connection between New Belgium and Ratio for their collaboration. New Belgium employee, Andrew Emerton, knows the Ratio crew through playing music with them in the past. Brewing together was a natural choice.
New Belgium's head pilot brewer, Cody Reif, and the head of New Belgium's wood cellar program, Geoff Wenzel, joined Ratio's head brewers, Ali Benetka and zumBrunnen, to collaborate on a Grapefruit Brulee French Saison. Lowery let The Pint know, "We have never brewed anything like this before…although New Belgium did make a beer with grilled pineapple."
"I'm excited to play with a torch, I can tell ya that much" Wenzel says. They will be adding brown sugar to the top of the grapefruit and torching the hell out of it. The juice will be added post-boil, while the rinds will be added to the kettle. Find Ratio at Collaboration Fest and leave with a sweet taste on your tongue.